The most important thing about eyeglasses is that they help improve and correct your vision. However, thanks to stylish designer eyeglass frames, wearing glasses has developed into a stylish trend. With a variety of different styles of eyeglasses frames available choosing the perfect pair for you can be an overwhelming decision. Beyond personal preferences and style, the shape of your face plays a huge role in determining how your glasses frames will look. With all the frame styles to choose from, discovering the shape and style that works best for your face shape will really help trim down the options, making your decision much easier.
If you have ever wondered which glasses frames styles would suit you best, read on! In this blog, we are going to review the importance of choosing the right frame style and some of the best eyeglasses styles for common face shapes we often see in our eye doctor office.
The Importance Of Choosing The Right Frames
The glasses frames you wear can really define who — and who you want to be — perhaps more than anything else. Of course, they help correct your vision but they are also one of the first things people will notice. According to fashion experts, the accessories on your face will often stand out more than anything else you wear. Your glasses can tell others what kind of personality you have, your style, and even how much confidence you have! Now that eyewear plays a big role in style, it is best to choose a pair of designer eyeglasses that are not only stylish, but also fit your face shape.
Choosing The Right Frames For Your Face Shape
The shape of your face is an important factor to consider when choosing designer eyeglasses frames. The size of frames is equally important, so the trick is to look for frame styles that scale with the rest of your face. For those with larger faces, a larger pair of eyeglass frames will look much more natural and normal. Oppositely, for those with small faces, a smaller pair of glasses — regardless of style or shape — will draw attention away from the small facial dimensions.
Let's take a look at some of the most common face shapes and the best styles that fit them. Of course, not everyone will fit perfectly into these categories. Eyeglass frames that may work for one individual may not necessarily work for another person. However, getting an idea before a trip to the local optician will be helpful when you are choosing the perfect eyewear for your face shape. While there are many factors that go into choosing a pair of eyeglasses, the shape of your face is a good way to determine which frames will work and which ones won't.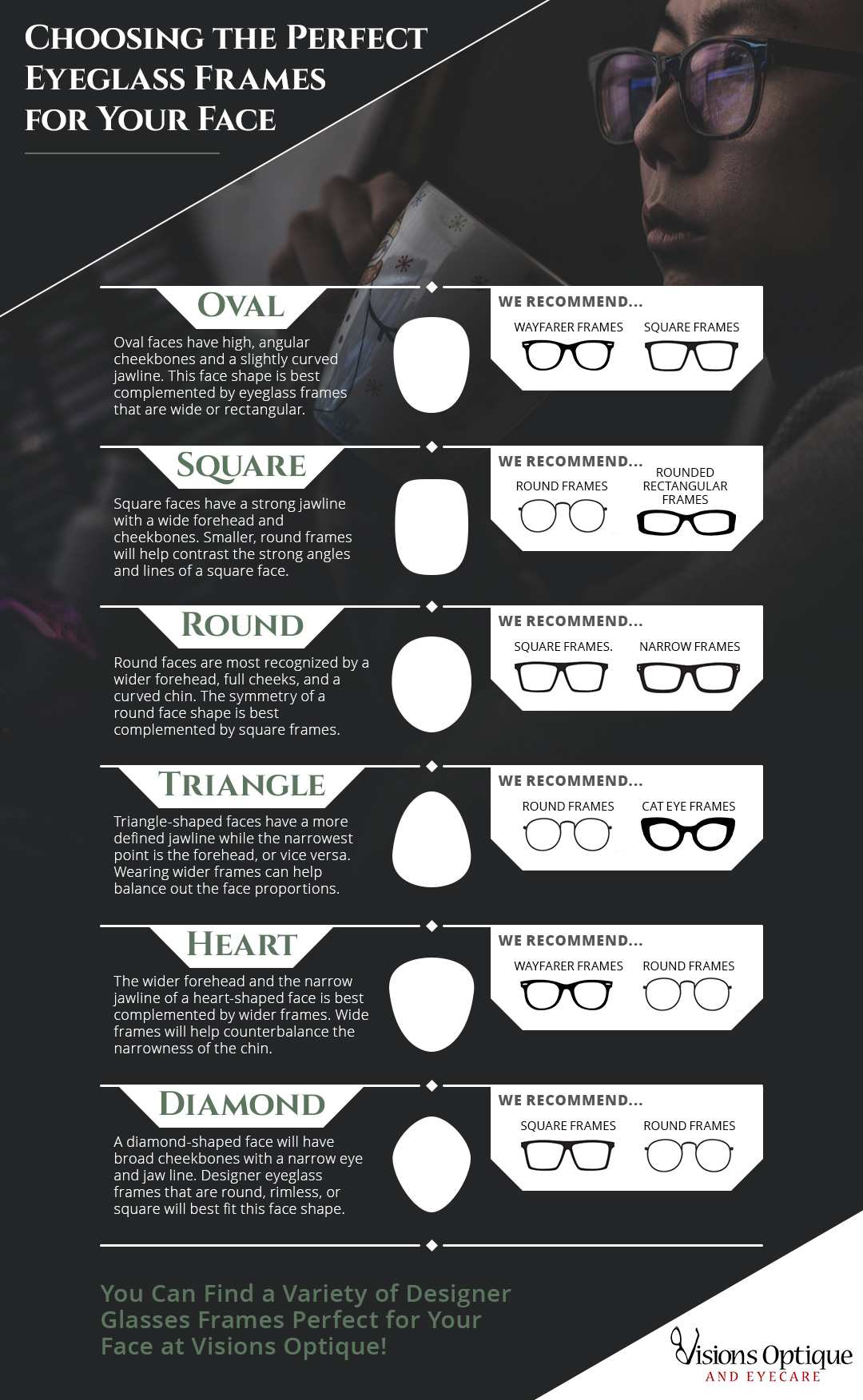 Oval
If you have an oval-shaped face, you're in luck! Faces with an oval shape tend to work with more frame styles than any other face shape. With high and angular cheekbones, a slightly curved and thin jawline, the balanced proportions of an oval face make it ideal for a variety of designer frame styles. For the best looking frames, stick to wide or rectangular frame, such as wayfarer frames. However, if you prefer another style, chances are it will work with your face shape.
Visions Optique Tip: Stay away from overly large glasses frames, as the oversized look can affect the proportional appearance of an oval face.
Square
Those with square faces will generally have a stronger, more horizontal shaped jawline with a wider forehead. The length of the face is about equal to the width, creating a square outline. Because square faces have strong angles, it is best to choose a pair of frames that have curves or softer corners. Glasses frames that are wider and sit on the bridge on the nose are a great choice for those with square faces. Oval glasses will help contrast the lines and angles of a square face. If you want to go with rectangular frames, be sure to find a pair without harsh angles as it can make your face look larger or squarer.
Round
Round faces are most recognized by a wider forehead, full cheeks, and a curved chin. With the curved features of a round face, angular eyeglasses generally will look the best. It is best to look for narrow, square, or rectangular eyeglass frames as they can help make a rounded face appear longer and thinner.
Triangle
Okay, so your face doesn't actually look like a triangle, but it does have somewhat similar proportions. Also known as a pear-shaped face, triangle faces generally feature a wide jawline and a narrow forehead. Wearing wider frames can help balance out the face and curved edges will certainly add some appeal. Browline, round, semi-rimless, and cat-eye shaped frames are all popular, trending styles of frames for people with triangular-shaped faces.
Heart
Because heart-shaped faces tend to be wider at the forehead and gradually more narrow through the jaw, it is best to select frames that are wider than the forehead to create more balance. Choosing eyeglass frames that are wider at the bottom will help counterbalance the narrowness of a chin. Generally, light colored and rimless frames look the best on heart-shaped faces. However, butterfly, aviator, and wayfarer eyeglass frames will also work well.
Diamond
While this face shape is rarer than the others, a diamond-shaped face will have broad cheekbones with a narrow eye and jaw line. The goal is to find frames that will highlight your eye line while softening your cheekbones. We recommend going with designer eyeglass frames that are round, rimless, or square.

As you can see, the shape of your face plays a role in how certain style of eyeglass frames will look on you. Again, this guide serves as recommendations from eyewear experts and everyday patients like yourself. Designer frames that may look good on one person, may not be the best fit for another. However, we believe this guide and recommendation are a great starting point for those looking for a new pair of eyeglasses. The opticians at your local eye care provider will be able to help you find and choose the right pair of frames based on your face shape, preferences, and style.
Find The Perfect Eyeglasses Frames In Scottsdale, AZ
If have been looking to get a new pair of eyewear or designer eyeglasses in Scottsdale, AZ you'll be sure to find a variety of stylish frames at Visions Optique. Carrying both designer glasses for men and women, you can find brand names like Gucci, Chloe, Juicy Couture, Ferragamo, Ray-Ban, Maui Jim, and so much more! All of our glasses frames are high-quality, durable, versatile, and stylish. At Visions Optique, you can find designer eyewear frames that are made from a variety of materials, such as titanium, carbon fiber, wood, and nylon. You can view our variety of styles and brands after your comprehensive eye exam with one of our Scottsdale optometrists. Our friendly opticians will work with you to help you find and select a pair of eyeglass frames that fit your preference, style, and face shape best.
To learn more about our designer eyeglasses frames or to schedule an eye exam, contact the eye care professionals at Visions Optique!