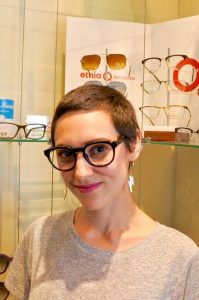 Private: Schedule An Eye Exam With Heather Canady
HEATHER CANADY
Heather is a second generation optician with over 15 years of experience in the optical and eyecare industry. She loves outrageous eyewear and staying up to date in the latest in optical fashion. Heather is an expert in helping patients find eyeglasses frames that fit their style and personality but also flatters their face. Heather also understands the importance of the lenses that we choose to make sure all our patients see the best they can see. She stays up to date on all the latest technology available in ophthalmic lenses and sunglasses.
When Heather isn't assisting our patients to select the perfect pair of eyeglasses and glasses frames, she is a voracious devourer of books and music. She can often be found in her kitchen experimenting with various flavors of pie.
Schedule your eye exam with the Visions Optique And Eyecare team today.